According to evidence obtained by Buzzfeed, Dan Close, a high school teacher in Dewey, Oklahoma, has been allegedly posting racist, homophobic, and islamophobic rhetoric for years.
Buzzfeed claims to have been given the evidence by a resident that wished to remain anonymous due to fears of retaliation from 'alt=right' bigots. The tip-off comes after inaction and stagnation on behalf of the Dewey Public School System to reprimand Dan Close.
Is Being A Racist A Prerequisite For Being "Alt-Right"? 
Dan is about what you would expect out of the hate-fueled bigots in the 'alt-right'. He buys into 'fake news' stories about "Pizza-Gate" and gleans his "facts" from Breitbart "news".
Some of his posts label the former Secretary of State and Presidential Candidate Hillary Clinton as the 'Pantsuited Beast 666″ and call into question Michelle Obama's gender. The latter of these two concerning Michelle Obama was a rumor started by a right-wing blog called "Truth and Action".

Dan Close even goes so far as to blame Democrats and liberals for the slaying of five Dallas police officers in July. Killings that were motivated by police slayings of unarmed African-Americans.
The high school teacher relentlessly attacks the LGBT community using his religion as a tool for his hatred. His entire world apparently crumbled the moment two men he may never meet might be able to enjoy a bit of wedded bliss.
His professed delusion that the act of refusing service to an individual because of one's perception of another's sex life is somehow okay is an unacceptable stance for an educator to have. That he thinks to not be able to discriminate like that is somehow being forced to "Participate in our Perversions" is mind-boggling in itself. You have to have logic twisted like a pretzel to think like this.
Although he also shows distinct hatred for the LGBT community and its supporters, his bigotry of Muslims is overwhelming. And this guy is teaching children in the U.S, a travesty certainly not unnoticed by any sane individual.
Dan has an obvious hatred for President Obama and is among those on the far right that believe the sitting President to be a Muslim. Obama, of course, is a self-proclaimed Christian.
Dan also displays his ignorance over how economic security is driving many impoverished people into the arms of ISIS.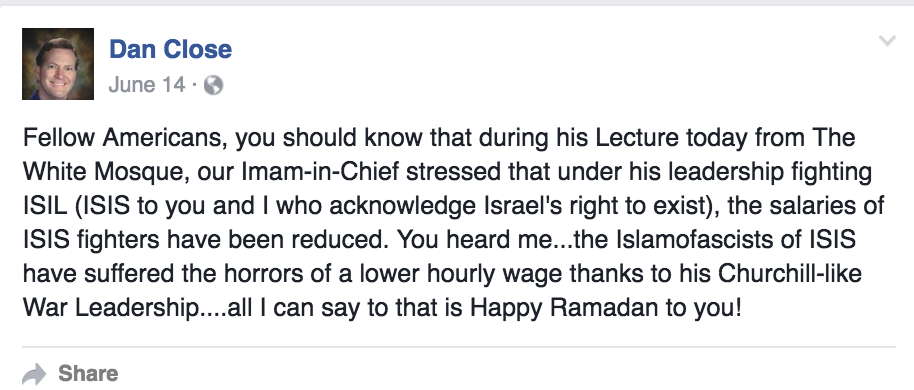 But perhaps even more disturbing, is his professed belief that under a Trump administration Muslims would be "butchered".

That this guy may still have a job teaching students is a poison on all generations he may come into contact with.
(All post image captures via Buzzfeed)