Donald Trump was so taken aback by a photo used by NBC that in an unofficial press meeting with members of the media he said as much to NBC News President Deborah Turness. Reddit users were not about to let him forget it either.
According to a report from Politico:
"The source said the meeting started with a typical Trump complaint about the "dishonest media," and that he specifically singled out CNN and NBC News for example as "the worst." He also complained about photos of himself that NBC used that he found unflattering, the source said. Trump turned to NBC News President Deborah Turness at one point, the source said, and told her the network won't run a nice picture of him, instead choosing "this picture of me," as he made a face with a double chin. Turness replied that they had a "very nice" picture of him on their website at the moment."
It appears some corners of the internet are not quite willing to let Trump live it down.
Reddit's Trump Double-Chin Photoshop Battle Is Producing Some Unappetizing Yet Hilarious Results
As with most embarrassing moments, sometimes making them go away is as simple as just not saying anything. Case in point: Mike Pence's trip to see Hamilton on Broadway.
Were it not for Trump's tweet crying about Mike Pence's safe space being violated, the likelihood that #NameAPenceMusical would have gone viral is nill. But Trump couldn't keep quiet and Pence, of course, enjoyed being the point of ridicule even more so than just at the Broadway Musical alone.
So with Trump's temper tantrum over his pelican food pouch he calls a double chin, Reddit's reaction is far from surprising. However, it is surprisingly hilarious in its results.
Of course, food is just never enough. Many on the Reddit forum took the competition to their favorite films. From Star Wars to Hitchhikers Guide to the Galaxy, nothing is sacred.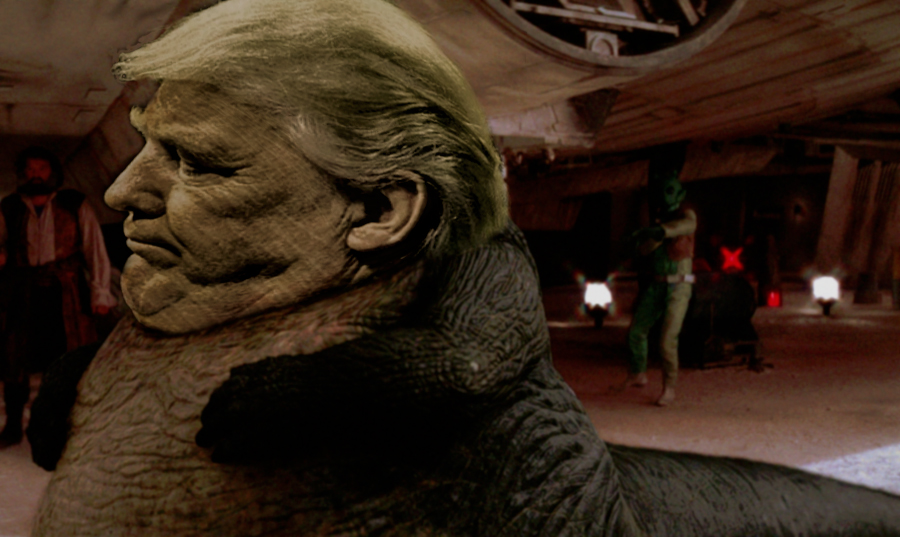 Others incorporated the image into their favorite pop-culture icons.
However they chose to do it, they all turned out pretty damned hilarious! We hope you found these as funny as we did.